About Us
Your job is to run your business. Our job is to handle your bookkeeping and help you understand where your money is going. At Profit by the Books, we'll get to know your business and help you see what your money is up to from month-to-month, not just a tax time.
What you get with Profit by the Books:
One-on-one support when you need it: If you have questions about your financials, your team is always a quick message or phone call away. No waiting for hours on hold—just helpful customer service from real people. Message your team any time, or book a call whenever you like.
Crystal clear financial statements and reports: See what your money is up to. Your income statement, balance sheet, and visual reports provide the data you need to grow your business.
Perfect reports: At the end of each month, your bookkeeper delivers accurate, up-to-date financials.
More hours in the day: We take care of the tedious bookkeeping work so you get more time to focus on what you care about—helping your business succeed.
Mission
Our mission at Profit by the Books is to provide professional bookkeeping services to small to medium-size business owners. Our professional staff is devoted to providing our clients with timely and accurate bookkeeping so they may assess their financial position at any time.
Vision
At Profit by the Books, our vision is to simplify your life and provide the tools your business needs to be more profitable. We help you understand your numbers on a regular basis – not just at tax time – so you know where your money is going and you're empowered with financial awareness to make smart business decisions.
Values
Integrity: We always approach our clients and colleagues in an ethical manner – with confidentiality and approachability.
Knowledge: We're always learning as our world embraces new technologies. We strive to remain on top of the latest developments for the benefit of our clients.
Service: We always strive to provide top-quality service to our clients.
Respect: We are always respectful of our clients and one another.
Enthusiasm: We work with passion to do our best and provide not only bookkeeping service, but smiles!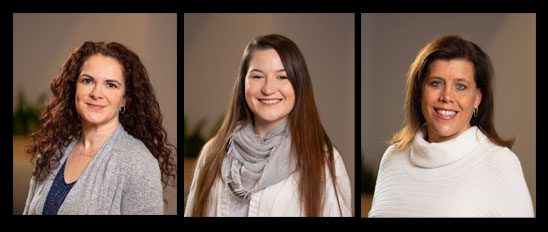 Meet our team (left to right): Claudette, Lexi, and Carla.